Wow things have been really crazy lately. It seems like life has suddenly kicked into overdrive. I've got a million things on the go, and as a result, I've been neglecting the things that are important to me. It's not that I'm not interested in them anymore, it's that there is simply no TIME to get as much done as I'd like. In the last few weeks, a bunch of things have happened that are sucking up my time and leaving me mentally and physically exhausted at the end of the day.
My job has kicked into overdrive which has (unfortunately) cut into my blog writing and reading time.
I've moved into a new house that needs a ton of work to make it our own, including a giant list of tiny little projects that is going to take months to get through.
We got our new dog Molly, and although she's the sweetest little girl ever, she needs a lot of training on how to be a good pet (things like how to meet new dogs nicely and how to ride in the car).
Finally, it's summer time, which means that every weekend we're shuttling from one family event to another, usually with our Friday-Saturday-Sunday weekend completely booked down to the hour by Tuesday.
I'm really happy about most of these developments, I like the faster pace at work, I love our new place and dog, and I love spending time with friends and family. But by the time I get home at the end of the day, I'm pretty exhausted, which doesn't leave much time or enthusiasm for the things I used to spend a lot of time doing, like writing, running, yoga, and (most importantly) spending time with my fiancée.
Finding My Lost Enthusiasm
I would LOVE to do that every morning, but the truth is, I can barely get myself out of bed some mornings. It's not because I haven't had enough sleep or because I worked a twelve hour shift the day before, it's because I'm a naturally lazy person. When my day is packed I find it tough to go the extra mile and really push myself to do the things I want to do.
So I have two conflicting mentalities going on. The one mentality, the lazy side of me, wants to stay in bed until the last minute, go home from the party at midnight, and lay on the couch all night. The other mentality, the (I think) better version of myself, wants to get up at 6am and go for a run, work hard and fast all day, come home and do a few hours of cooking and cleaning before spending some quality time with the fiancée.
Obviously the second mentality is the better one, but the first mentality is the easier one. With all of this extra stuff on my plate, I've been siding with the first mentality more and more lately.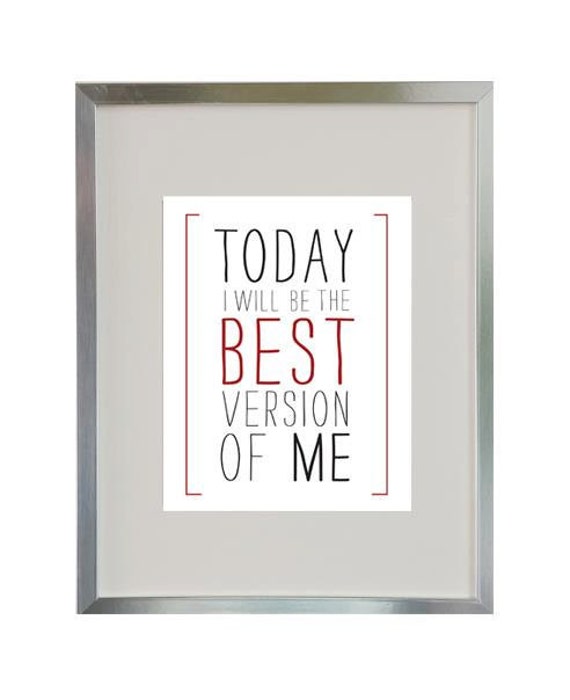 Just Do It
So since this blog has been so great for my accountability lately, I figured I might as well use it for that yet again. I hereby pledge to stop wallowing in my own laziness, to find my enthusiasm for blogging, running, and fiancée loving, and to embrace the craziness that is my life instead of becoming a victim of it. At the end of the month I'm going to check in and see if I'll be able to turn this things around. I'm hoping that I'll be able to make up for my missed blog posts (with quality writing), complete my very nearly completed running goal for the year, and maybe I'll interview my fiancée on how well I'm doing at putting effort into our relationship.
I might also buy that print above to hang next to my bed so I can see it every morning before I hit the snooze button.
How do you deal with life stress? Do you shut down like me? Or do you rise to the occasion and kick some ass? I want to know!